Article: Hump Day Series | My Love Language: Squirting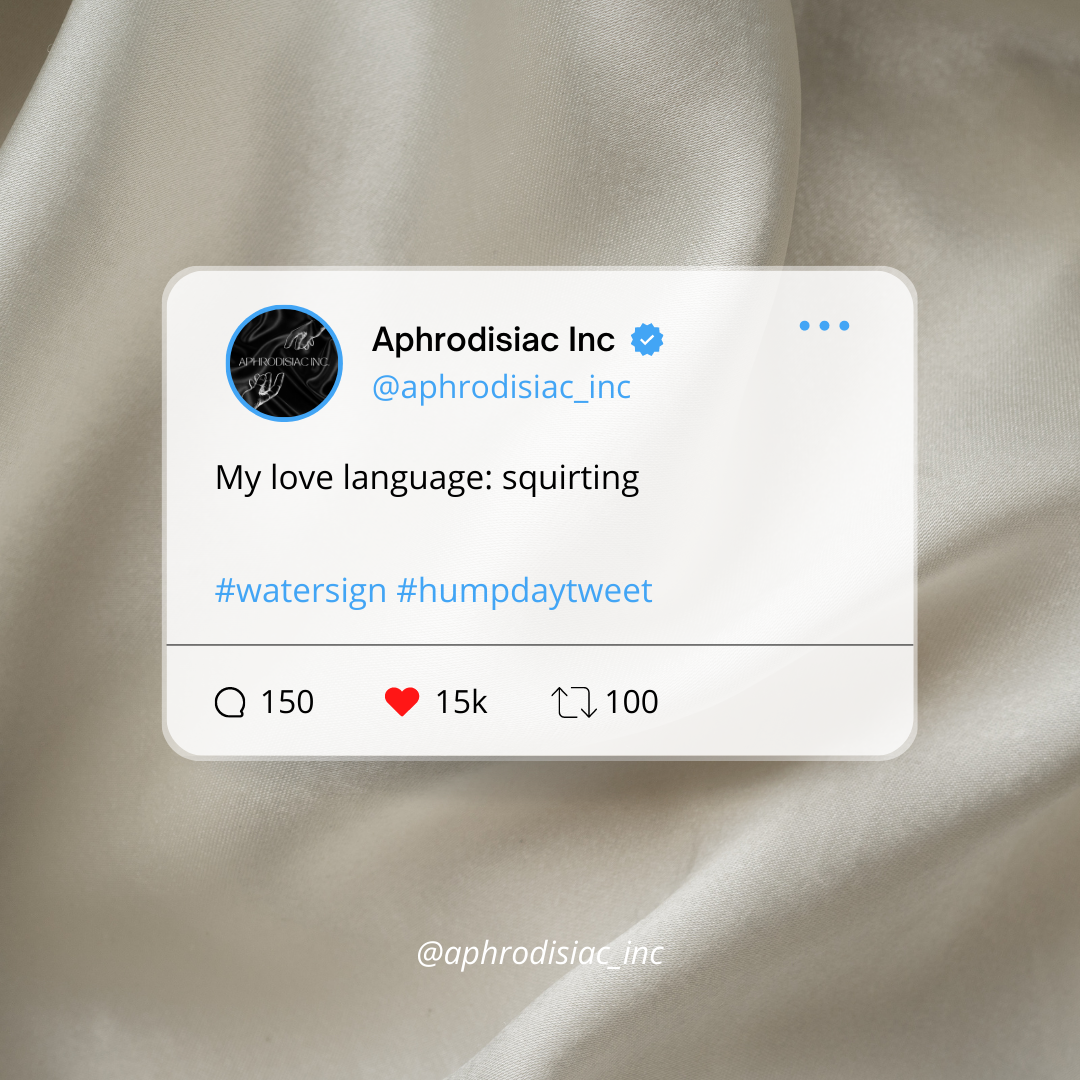 Hump Day Series | My Love Language: Squirting
Welcome to the first post in our Hump Day Series! You guys (and gals) have a lot of questions and what's the best way to answer them? A blog!  

Every Wednesday we'll try to post a blog based on the questions we get this week, so engage , share with a friend, and leave a comment!

Now let's jump into it!
𝗖𝗼𝗻𝗳𝗲𝘀𝘀𝗶𝗼𝗻…
"I would love to squirt, but I'm just not sure how? Isn't it just pee? 🤭 I need some answers!"
Here are 3 simple 𝗛𝗔𝗖𝗞𝗦 to reach euphoria:
1. You have to 𝘀𝘁𝗶𝗺𝘂𝗹𝗮𝘁𝗲 your g-spot.
This won't be fast & hard! 🚫😳 It's a 𝘀𝗹𝗼𝘄𝘄𝘄.. build and you'll feel pleasure! Sometimes you might have to get into the right position 🤸🏽‍♀️ to reach it but 𝗲𝘃𝗲𝗿𝘆𝗼𝗻𝗲 has it!
2. It honestly might feel like you have to pee! 👀
This is what 𝘀𝘁𝗼𝗽𝘀 𝗮 𝗹𝗼𝘁 𝗼𝗳 𝘄𝗼𝗺𝗲𝗻 from squirting. It feels like it is, but it's 𝗻𝗼𝘁. 💦
The fluid comes from your prostate (𝘆𝗲𝘀, 𝘄𝗼𝗺𝗲𝗻 𝗵𝗮𝘃𝗲 𝗼𝗻𝗲) 😌and in fact you can tinkle🚽 right after your orgasmic release too!
3. Let it flow 💆🏽‍♀️🧘🏽‍♀️
If you reached this far (either by hand, toy(s), or 🍆) it's time to 𝘁𝗮𝗸𝗲 𝗶𝘁 𝗼𝘂𝘁 from inside you & 🌊! This is to make sure you let it 𝗳𝗹𝗼𝘄 𝗽𝗿𝗼𝗽𝗲𝗿𝗹𝘆 & remember the sensation if it's your first time!
Our
𝗦𝘁𝗮𝗿𝘁𝗲𝗿 𝗣𝗮𝗰𝗸𝗮𝗴𝗲
has
Oshun's Syrup
&
The Nile
✌🏽of our bestsellers when it comes to squirting! Just read the reviews on how it's been 𝗮𝗽𝗽𝗿𝗼𝘃𝗲𝗱 𝗯𝘆 𝘀𝗼 𝗺𝗮𝗻𝘆 euphoric customers!
It 𝗲𝗻𝗵𝗮𝗻𝗰𝗲𝘀 𝘀𝗲𝗻𝘀𝗮𝘁𝗶𝗼𝗻 & 𝘁𝗶𝗴𝗵𝘁𝗲𝗻𝘀 𝘆𝗼𝘂𝗿 𝘄𝗮𝗹𝗹𝘀 = 🤯🌋💦🌊😩
Save on these bestsellers and get this package for $90!
Buy now
!
#sexeducation #sexpositive #sexed #datenightideas #aphrodisiacinc #thenile #oshunssyrup #bettersexeducation #pleasure #relationshipadvice